Windows Gold V2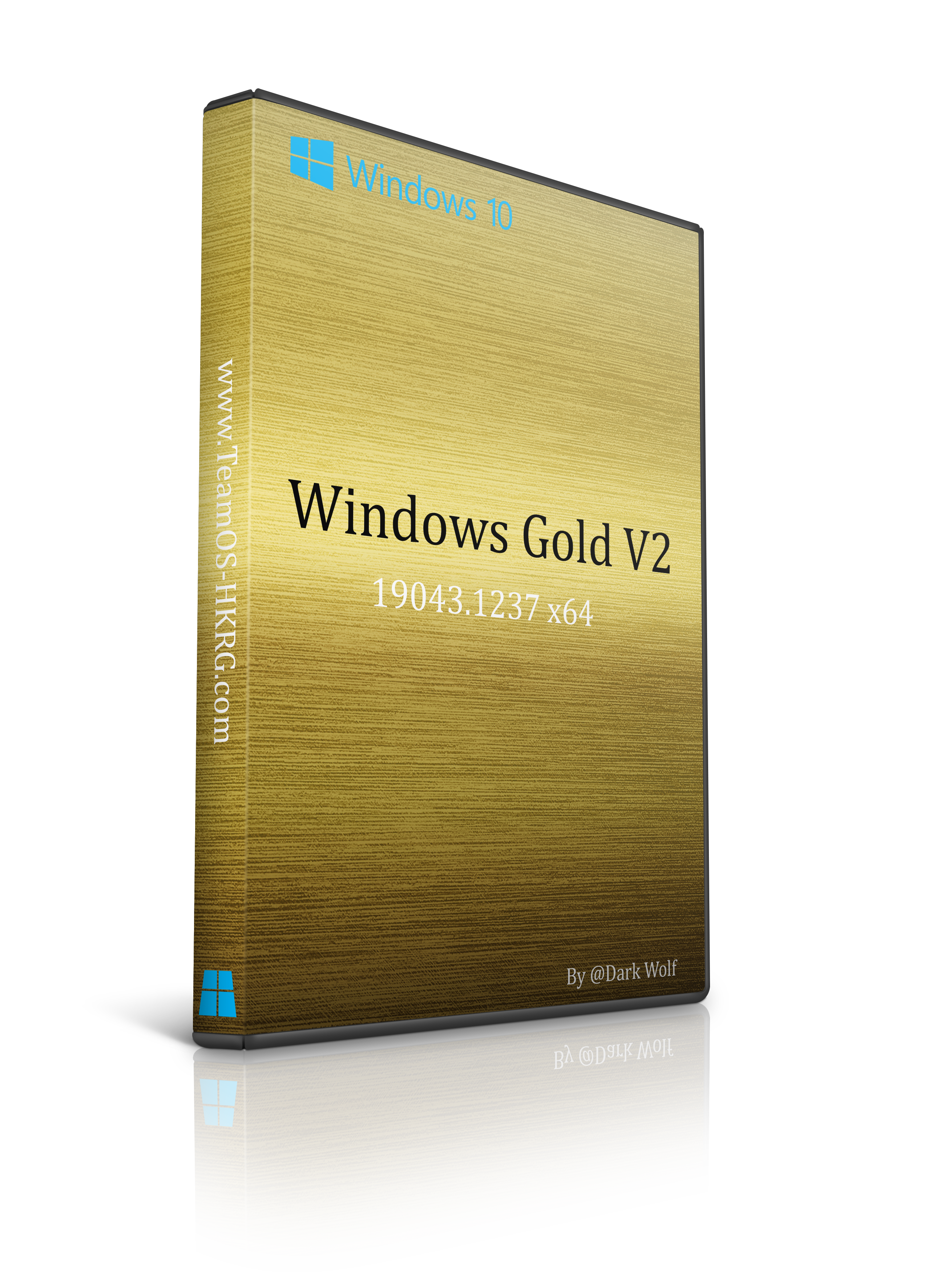 ​General Information:
Name: Windows Gold V2
Version/Build: 21H1.19043.1237
Architecture: x64 (64 Bit)
Size: 13.0 GB
Language: English
Author: Dark Wolf
Compression: WIM max compression
Activation: Fully Activated + Activator on Desktop in case of failure
*To ensure activation, make sure your internet connection is working and you are not behind a service like a VPN, proxy, or any other similar service.
*You will need a flash drive of 16GB or larger to install to, I'd recommend using rufus or ventoy. Both available here on TeamOS.
Requirements:
Processor: 1Ghz or better
RAM: 2GIG or more
Minimum Hard Drive Space: 50GB
Graphics Card: DirectX9 capable or better
Description for Windows 10:
Assembly made on the basis of the original images from MSDN. Included in the distribution Net Framework 3.5 (includes the .NET 2.0 and 3.0). The system is completely on the original installer.
Note: Clean install is recommended with this OS.
Additional info for other features:
To use touch, you need a tablet or a monitor that supports multitouch.
To access the Windows Store and download apps, you need an active internet connection and a screen resolution of at least 1366 by 768.
To snap apps, you need a screen resolution of at least 1366 by 768.
All current updates as of 9/26/2021 integrated
Also includes all current Defender updates and Microsoft Visual C++ x86/x64 preinstalled
Spoiler: Pre-installed apps and Runtimes
Microsoft Office Professional 2019 16.0.14326.20404 Activated
Adobe Acrobat Pro DC
Adobe Photoshop 2021
CCleaner Tech Edition 5.78
DiskGenius 5.4.1
Google Chrome 94.0
IOBit Driver Booster 8.3.0
IOBit Uninstaller
IOBit Unlocker
VMWare Workstation Pro Lite 16.1.1
Internet Download Manager 6.38.25
FireFox 92.0.1
Opera GX Stable release 79.0
Old Calculator for Windows 10
7Zip 21.03 Beta x64
NotePad++ 8.1.1
Lightshot 5.5.0.7 – A fast and light screenshot app
Stardock Start10 1.96
Stardock WindowBlinds 10.89
Media Player Classic – Black Edition 1.5.8.6302
UltraUXThemePatcher 4.2.0.0 – You can install custom themes
WinRAR 6.02 x64 Activated
Microsoft DirectX installed – you can play the games that require it
Microsoft Visual C++ Hybrid pack x86/x64 installed
Java 8 Update 301
Adobe AIR 33.1.1.385
Adobe Flash Player 32.0.0.465
VLC Media Player 3.0.16 – Play the media you want.
WinAmp 5.8 installed – play your favorite music files.
Rainmeter 4.5.3 + RainformerAIDA64 skin added
Resource Hacker 5.1.7
uTorrent Ad free edition 3.5.5 46010
OldNewExplorer – located in the root of C:\
Windows Update MiniTool – located in the root of C:\
WinAreo Tweaker – located in the root of C:\ + shortcut on desktop
Features installed/enabled:
.Net 3.5
.Net 4.8
Legacy Components
Media Components
Removed Components:
Nothing. This is the full Windows 10 OS.
Spoiler: Disabled Components
Disabled Telemetry
Disabled Cortana
Disabled UAC
Disabled downloads blocked
Disabled blur on sign-in screen
Disabled Error Reporting
Disabled Automatic Maintenance
Spoiler: Tweaks applied
Classic Personalization (Win 7) Control Panel applet Enabled
Admin tools context menu enabled
Manage context menu enabled
Task Manager context menu enabled
Classic Personalization Desktop Context menu enabled
Control Panel Desktop Context menu enabled
Make network computers visible
Windows Update added to Control Panel
Unblock downloaded files context menu
Task Manager context menu
Switch Power Plans context menu
Snipping Tool context menu
Shut Down context menu
Safe Mode context menu
Restart Explorer context menu
Repair Windows Image context menu
Kill not responding tasks context menu
App mode and Windows mode (Dark and Light mode) context menu
Wallpaper quality set to 100%
Enabled old volume control
Activated Windows photo viewer
Wallpaper location context menu added
Take Ownership Context menu enabled
My Computer on Desktop
Control Panel on Desktop
User folder on Desktop
Changed CMD text color to Bright Cyan
All NFO files open with notepad
System transparency is active and set to 200. You can change this if you wish.
Note:
This build was created as a companion for Windows Blue V1, which was posted previously. Since some still cannot run Windows 11 Pro (Windows Blue V1) this build was created in similar fashion, but with Windows 10 Pro 21H1. Also includes more tweaks than previously added, disabled componants (read above for list) and a few more apps preinstalled. Enjoy everyone!
There are 12 Windowblinds skins located in C:\Windows\Resources\WindowBlinds Skins, and they are also installed within WindowBlinds.
The skin Brilliance 10 is active.
Wallpapers are set to rotate every 10 minutes. The icon pack Midnight Black is also fully installed. There is also 68 themes preinstalled for you to choose from, and you can add more custom themes if you wish.
OldNewExplorer is active on first boot. You can adjust it's settings by going into C:\OldNewExplorer and look for OldNewExplorerCfg.exe –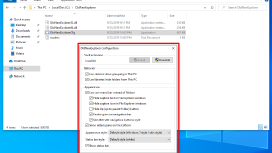 Also added WinAreo Tweaker portable to drive C:\ and a collection of icon packs and extended godmode in the Extras folder on the Desktop.
Additional note:
VirtualBox Guest Additions drivers are still installed. While they normally don't cause any issues on PC's and are safe to leave installed, there are a few PC's out there that apparently have issues with these drivers and will bluescreen sometime after install or when installing certain other drivers. This can be easily fixed by going here: Control Panel\All Control Panel Items\Programs and Features and looking for Oracle VM VirtualBox Guest additions 6.1.26. Remove them and reboot your PC. The problem should be fixed.
Thanks again for another awesome cover image, @Mr. Spacely!
Checksums: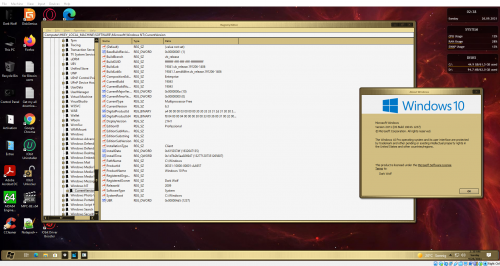 Download Via Torrent | pepofile.com
Direct Download | upload-4ever.com
If Required, Password: 123
Download Version
Download Only
Activator for Windows N Office AIO
Downloader, Extractor, Rufus, N ISO