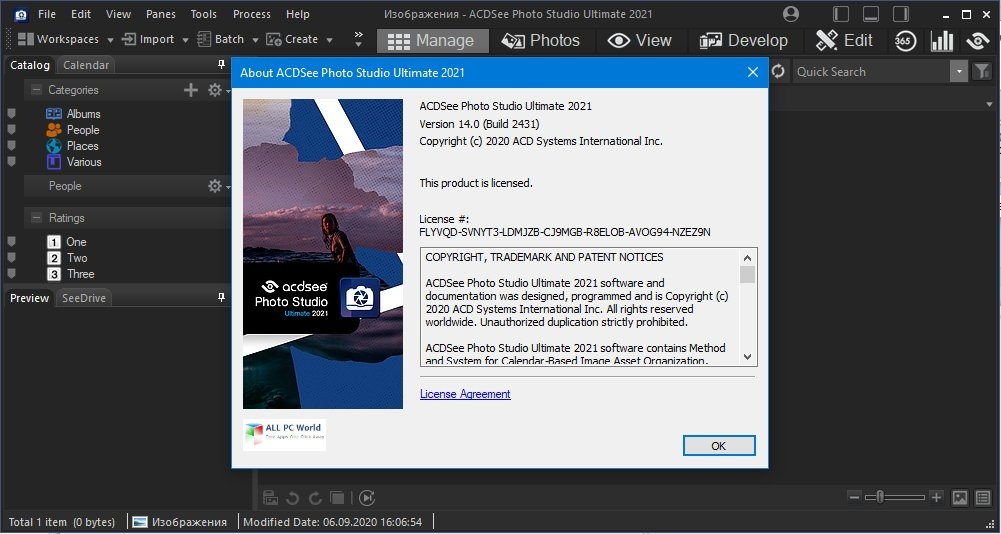 ACDSee Photo Studio Ultimate 2023 v16.0.3.3188 (x64) + Fix
ACDSee Photo Studio Ultimate 2021 is for photographers dedicated to their craft. With a focus on improved performance and precision editing, this year, choose ACDSee Photo Studio Ultimate 2021 as your sidekick.
Introducing Color Wheels
• Get enhanced control over color manipulation.
• Lift precise colors to enhance your images, make your skies bluer and your reflections vivid.
• Refine your color selection and saturation for edits with a new level of precision.
Face Detection & Facial Recognition
• ACDSee's Face Detection & Facial Recognition tool will find the humans in your photographs so you can name them for quick searching.
• The software will immediately learn which names to put to which faces, and even will suggest possible matches.
• Easily control the queue of images to be scanned for faces.
• Save hours of tedious manual skimming by searching photos by unnamed, auto-named, and suggested names.
• Keep photos distinguished by client, family member, or person of interest, then embed face data in your photos for safe keeping.
• NEW! Import face data from Lightroom and Picasa and save the effort of renaming everyone in your images. Facial Recognition will then find any matching faces in your ACDSee database.
Digital Asset Management
ACDSee has unrivalled file management capabilities. Finding, sorting, moving, organizing, and sharing—everything you need for complete mastery over your photography workflow is right here, at your fingertips. No uploading or importing your images. Add ratings, hierarchical keywords, tags, categories, location data and customizable color labels.
Layered Editing
With our layered editor, you can achieve complex adjustments and effects and go back to tweak them at any time. Find out more about parametric photo manipulation.
Develop Mode
Develop mode is unique to ACDSee Photo Studio Ultimate and Professional and offers advanced editing features that are non-destructive. This year, new panes streamline your process for applying Presets, taking Snapshots, and viewing your Histogram and Develop History.